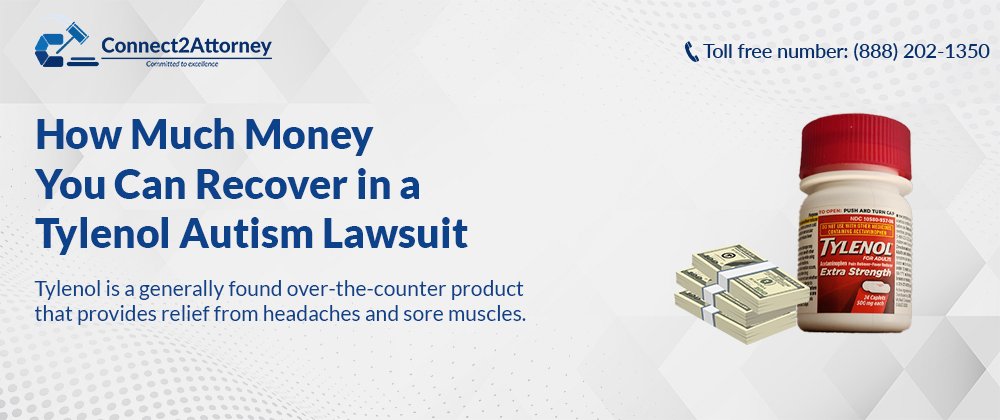 How Much Money You Can Recover in a Tylenol Autism Lawsuit
Tylenol is a generally found over-the-counter product that provides relief from headaches and sore muscles. In fact, it has been a commonly used medication by pregnant women to get rid of fever and pain. But certain scientific studies have found that the use of Tylenol or generic acetaminophen during pregnancy has created problems in fetal development and has increased the risk of autism in newborn babies.
The study has led to the filing of many product liability lawsuits by parents whose children were born with autism after Tylenol consumption during pregnancy. These Tylenol Autism Lawsuits have been consolidated into a new class action MDL, which means the litigations have started.
How much compensation can I get from the Tylenol lawsuit?
These Tylenol Autism Lawsuits are a new class of cases which makes it difficult to provide any potential forecast on the value these Tylenol Autism Lawsuits can bring at this point in time. At the same time, we are also not sure whether will these scientific studies can stand or survive the legal challenges. But if it survives then it will be known in the next few years. However, the country had earlier seen few other drug lawsuits, which gives a sense that in case of survival, these Tylenol lawsuits can range somewhere between $500,000 to $2,000,000. This is just a projection based on the previous lawsuits.
But, Connect2attorney.com, can say that the economic impact of autism can vary widely and will depend on various factors like the severity of an individual's symptoms and their ability to access effective treatment. In fact, if the lawsuits survive and come to a positive conclusion then the compensations for children with these conditions can also consider the future medical expenses as well as the earnings that they may lose due to the ailment.
Which lawyer helps in the Tylenol lawsuit resolution?
Lawyers at Connect2attorney.com can help parents who are now looking into how to take legal action against Tylenol which has caused life-changing harm to them and their children.
Our Tylenol or acetaminophen lawyers at Connect2attorney.com are reviewing Tylenol autism lawsuits on behalf of families who have a child diagnosed with autism or ADHD after significant prenatal exposure to either Tylenol or generic acetaminophen.
You can find that whether you have a case by speaking to one of our experienced lawyers. Our attorneys will be quick to respond to you and happy to answer all of your questions.
Is there a lawsuit against Tylenol for causing ADHD?
Yes, there is a lawsuit against Tylenol for causing ADHD and this Tylenol lawsuit is attracting attention at the national level many companies like Johnson & Johnson, along with several major retailers, including Walmart, Walgreens among others are facing more than 100 lawsuits from the families of children with autism or attention deficit hyperactivity disorder (ADHD) is caused from the use of Tylenol during pregnancy.
These litigations are backed by studies that claim a link between autism, ADHD and Tylenol when it was consumed during pregnancy.
The parents of such children have alleged that the makers of the brand Tylenol and generic acetaminophen have not warned women of the ill effect the drug can have on their children if it is consumed during pregnancy.
However, the Tylenol lawsuit is still in the early phase and being the same in nature they are being consolidated. In fact, the US Judicial Panel on Multidistrict Litigation (JPML) has ordered to centralize and consolidate of all the lawsuits against Tylenol manufacturers and acetaminophen retailers before the US District Judge Denise Cotes in the Southern District of New York in October 2022.
Update on Tylenol Class Action Lawsuit
Tylenol autism MDL judge on April 21, 2023, issued an order in which it denied J&J's motion to dismiss based on the federal pre-emptive doctrine. The plaintiff filed against J&J says that the company had a duty to warn patients about the risk of using Tylenol during pregnancy. But, the company in its argument said that such warnings were pre-empted by the federal laws and regulations that are issued by the FDA governing the labeling of OTC drugs. Judge Cote held that pre-emptive did not apply because the company could have added a warning to Tylenol about the risks of in-utero exposure without violating any of the applicable federal rules and regulations.
Earlier on April 20, 2023, a federal judge overseeing these Tylenol class action lawsuits by families asked for the government's opinion on the plaintiffs' proposed warning. As the makers, distributors and retailers of the drug like Johnson & Johnson, Walmart and CVS among others have not issued any adequate warnings associated with the risks of the use of Tylenol or acetaminophen during pregnancy. The judge had asked the government to submit its views for labelling the proposed warning on the drug that warns against parental exposure to acetaminophen and risks associated with it like autism spectrum disorder (ASD) or attention deficit hyperactivity disorder (ADHD).
On April 13, 2023, the acetaminophen lawyers in the Tylenol class action lawsuit in reply to Judge Cote's question on what they think about warning on the drug said, "Autism/ADHD: Some studies show that frequent use of this product during pregnancy may increase your child's risk of autism and attention deficit hyperactivity disorder. If you use this product during pregnancy to treat your pain and/or fever, use the lowest effective dose for the shortest possible time and at the lowest possible frequency."
Judge Cote on March 27, 2023, adopted a new plaintiff fact sheet (PFS) that requires plaintiffs to provide information on the specific products they used. This section aims to identify plaintiffs with known risk factors or pre-disposition for autism or ADHD.
Case Count
There were 107 pending cases on March 10, 2023, in the Tylenol class action MDL in New York. This litigation will continue to grow exponentially.